Meat, especially mutton and horse meat, is a staple in Kazakhstan. But there is no lack of yummy vegetarian and vegan options either in the quaint city of Almaty. In fact, more and more vegan haunts have sprouted up in the city in recent years, as more youngsters turn to plant-based diets as they seek out eco-conscious choices and adopt more sustainable lifestyles. Here are some top lean and green menus to check out when visiting the former capital of Kazakhstan.
Nazarbayev Ave 128 (next to Almaly metro station)
This stylish cafe offers a large selection of vegan options, such as seasoned pistachios ($5.30), lentil soup ($5.30), fried eggplants with chilli and peanuts ($8.00) and focaccia pizza with rosemary ($4.00). Vegetarians who take cheese and dairy will love the mushroom and pecorino pasta ($9.50). A bonus: The dishes pair well with the extensive drinks menu. Line Brew, the house concoction, is a must-try.
Dostyk Ave 341 (city outskirts, bus stops nearby)
A more upscale choice, this vegetarian restaurant lives up to its name with its clean, green dishes that go beyond the usual salads. Expect to find an assortment of smoothies made with their homegrown wheatgrass, sandwiches made with pumpkin bread, zucchini spaghetti, and lime soup made with avocados, tomatoes, raw onions and peppers. The restaurant serves a good range of guilt-free cheesecakes too that are sugar-free and gluten-free. Expect to spend up to $20 per person, which diners say is worth every penny for the fab food and service.
Abylay Khana 39 (near Raiymbek Batyr metro station)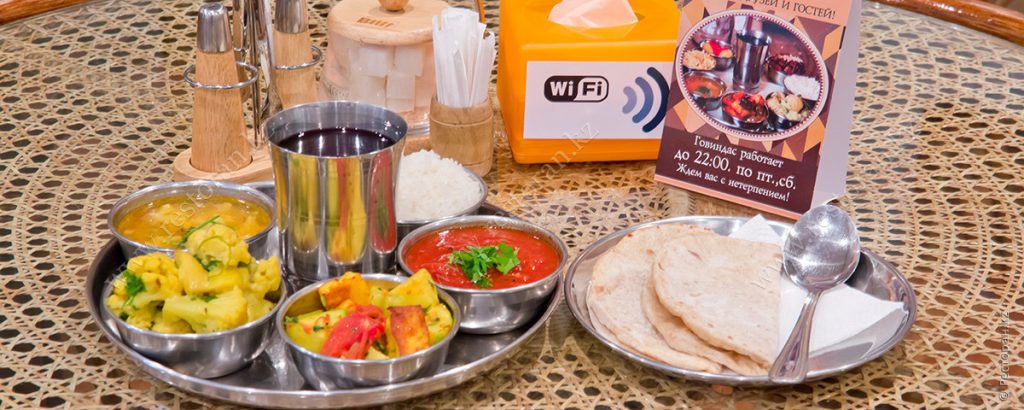 This vegetarian Indian restaurant offers pocket-friendly home cooked fare. For instance, its lunch special comprises three vegetable dishes and rice and puri (bread) for just $5.00. You can also ask to exclude certain options, like the paneer (cheese), which would appeal to vegans. Expect to find usual staples such as chai tea, sweet and salty lassis, Reviewers often praise the eatery for its cosy and homely vibe.
Abylai Khan Ave 113 (next to Almaly metro station)
Lauded by many as a charming cafe that serves good food, Aroma offers unique dishes like pumpkin hummus ($4.50), cauliflower cream soup ($4.50) and mango yogurt ($4.50) for those abstaining from meat. It's a popular haunt for breakfast and tea, and boasts a varied drinks menu which includes healthful Moroccan green tea and rooibos tea (about $4.00). Take a break here before exploring the malls and parks nearby.
Kunaeva 85 Corner of Kunayeva St. 85 (near Zhibek Zholy metro station)
While the selection of vegan and vegetarian options at this hip Georgian cafe is limited, the quality more than makes up for it. Popular starters include pkhali badrijani, a fried eggplant dish ($4.50), and lobio, which are stewed red beans ($4.00). Or try its delicious salads like the charkhali tkemali, boiled beetroots with traditional plum sauce ($5.50). For those who take dairy, the selection of traditional cheese dishes (about $7.00 each) is worth sampling.