So much to see, so little time. Nur-Sultan may be one of the youngest capitals in the world, but the futuristic and glitzy city is full of surprises. So gear up for two days of exploring with our guide!
DAY 1
Start your day with breakfast at Cafe Tochka
Cafe Tochka is the place to check out for good coffee and yummy breakfast eats at wallet-friendly prices. We recommend the salted caramel latte, smoked salmon and eggs on toast, and pancakes served with homemade raspberry jam and cream.
Prices start from $7 for smoke salmon and eggs on toast.
Take a stroll across the Ishim River, on the Atyrau bridge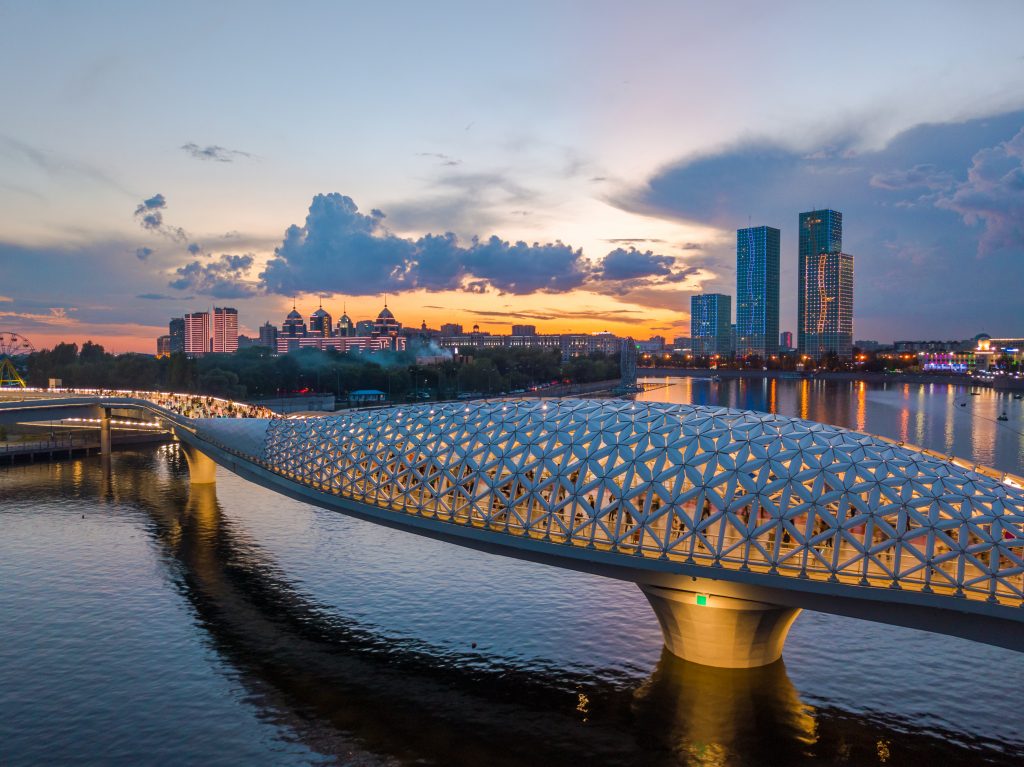 Enjoy a walk on the Atyrau bridge and take in the scenes of the city. The 313.5m-long pedestrian bridge is sometimes referred to as the Fish bridge by residents, as its outer shell resembles fish scales. The bridge was a gift from the Atyrau region to the capital, to mark its 20th anniversary.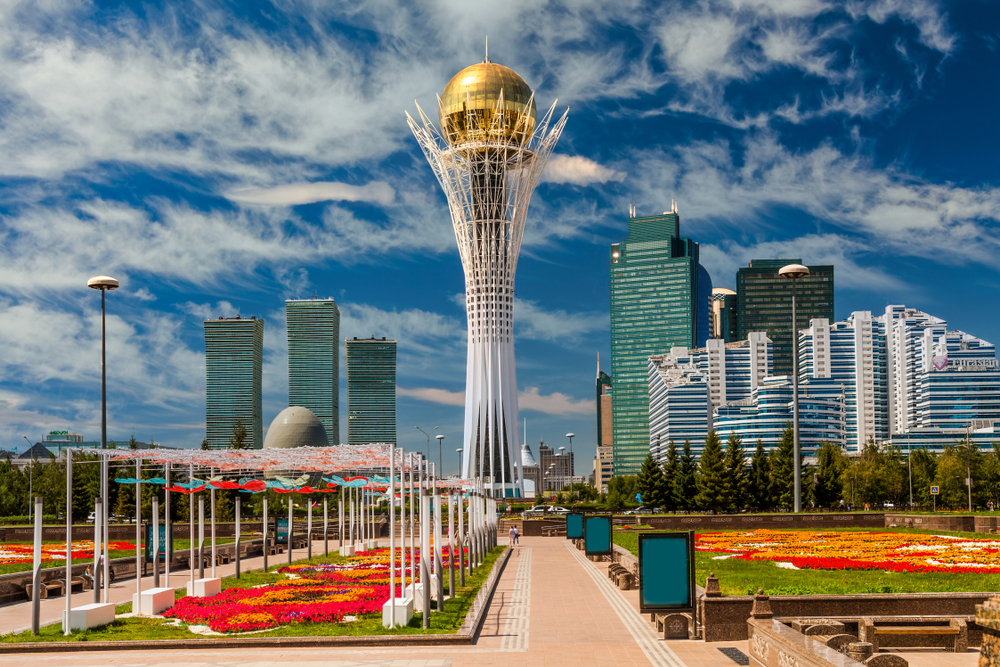 Get a panoramic view of the city at this 97m-tall observation tower shaped like a tree. Make your way up to the golden sphere on top, which features a viewing platform. The design of the monument, which opened in 2002, stems from a Kazakh legend about a sacred bird, Samruk, that lays a golden egg in a tall poplar tree. There is a handprint of the Mr Nursultan Nazarbayev, Kazakhstan's First President, on the observation deck, as well as some souvenir shops.
Head to the iconic Khan Shatyr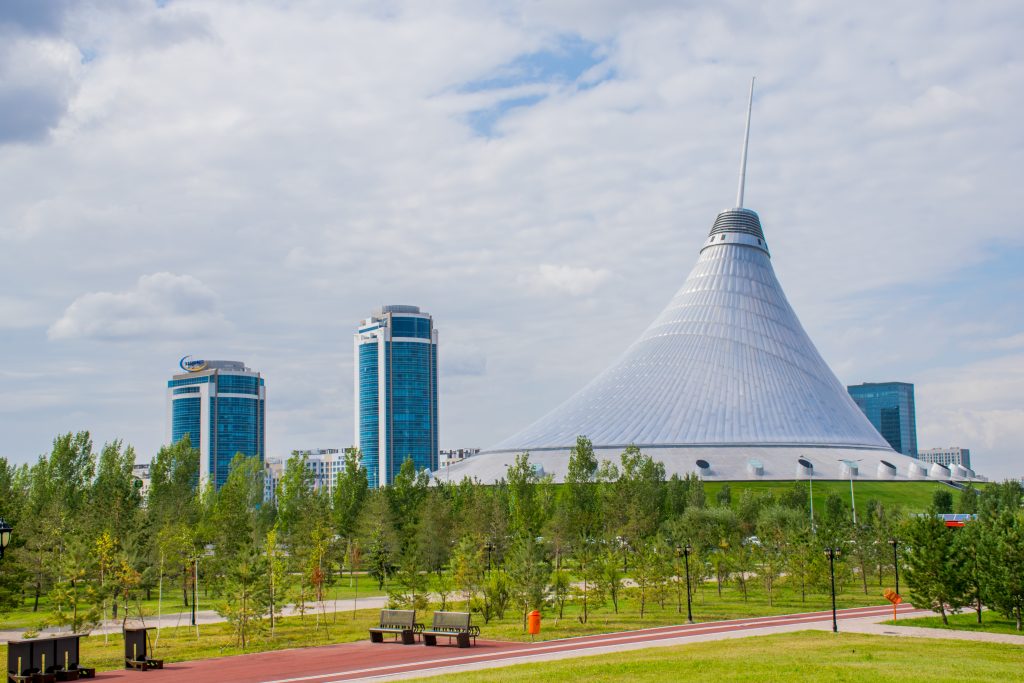 This sprawling see-through, tent-like structure is almost a city unto itself. Opened in 2010, it offers a slew of lifestyle facilities and entertainment options, including a shopping mall food court, a drop tower, flume ride and a 500m-long monorail. There is even an indoor beach resort complete with a water slide, palm trees and real sand imported from the Maldives. Designed by prominent British architect Norman Foster, it maintains a moderate indoor temperature year-round and offers locals and travellers relief from the harsh winter climate.
See the iconic pyramid of Kazakhstan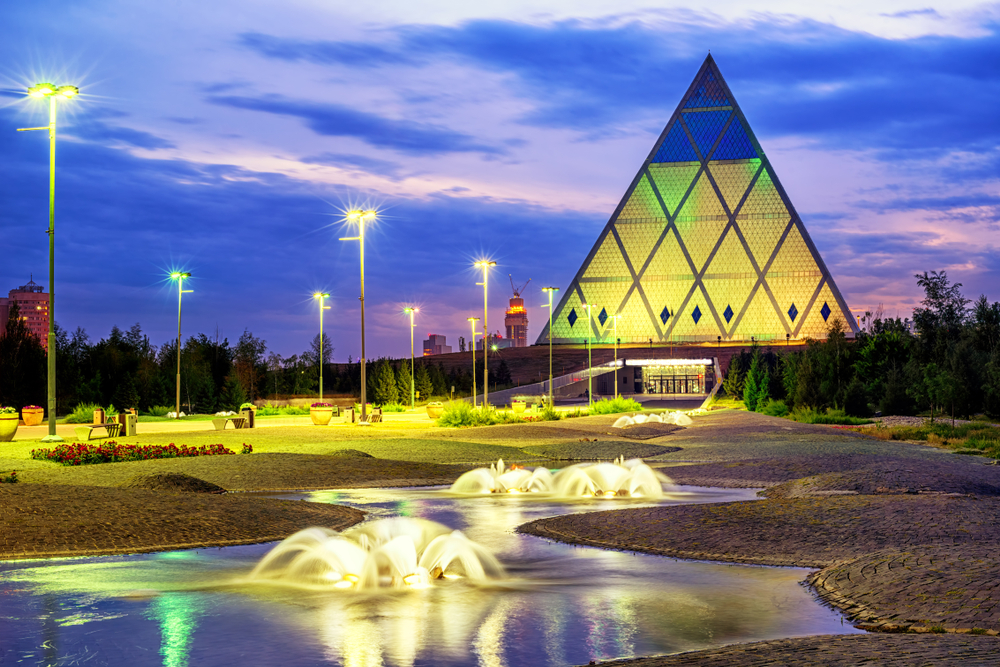 The Palace of Peace and Reconciliation, known to locals simply as the pyramid, is a 62m high building that is a sight to behold. It draws tourists who come to admire its unusual shape – the structure forms a perfect triangle with the same measurements across its height and base. It is formed of five stories of triangles on its façade, and the top two rows are clad in stained glass, an artwork designed by British architectural artist Brian Clarke. Opened in 2006, the building was conceived as a permanent venue for the Congress of Leaders of World and Traditional Religions but hosts different conferences, exhibitions and concerts throughout the year.
Soak in the city night lights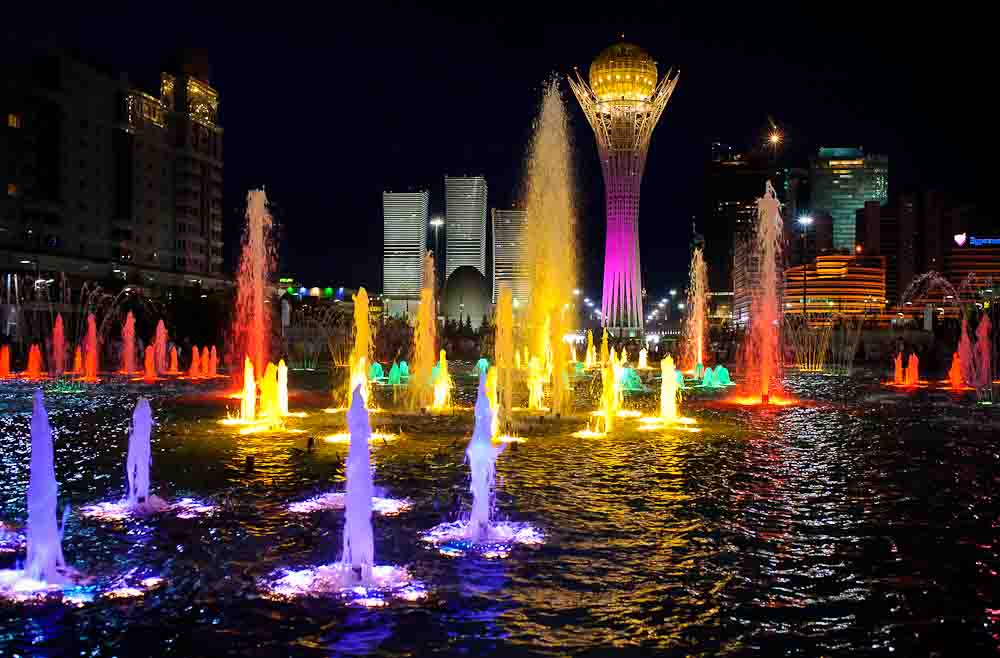 End your day with a walk along the Esil River, and soak in the night lights of the city. If you have some time, make sure to check out the Sun Fountain laser show, which uses colourful laser lights, dancing water, music and screens to tell the story of Nur-Sultan and Kazakhstan. The 10 to 15 minutes show runs from 9pm to 10.30pm in half-hour intervals.
DAY 2
Hazret Sultan Mosque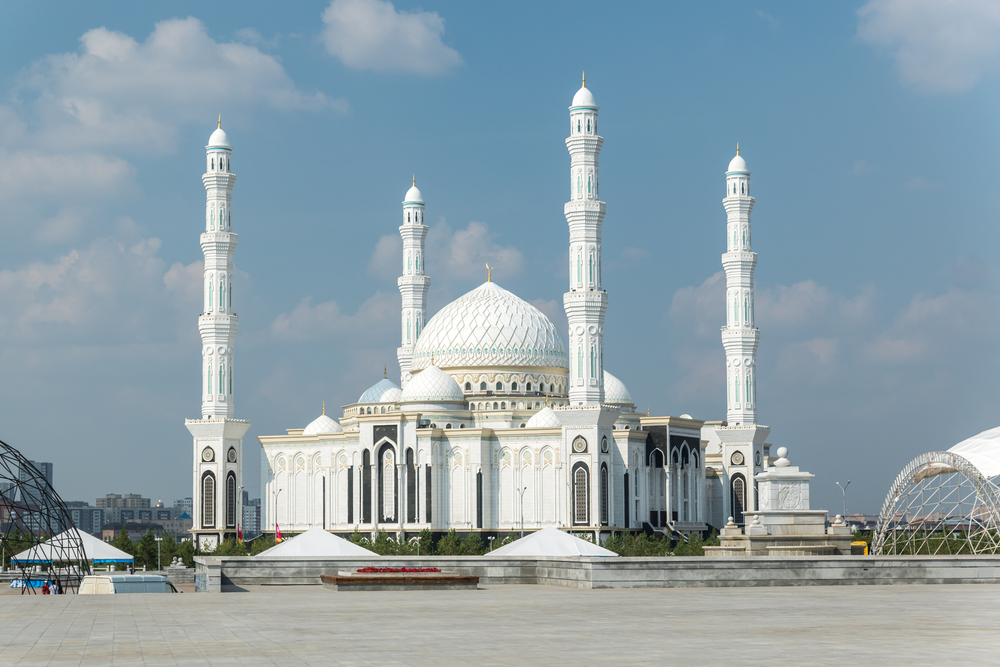 Start your second day in the city with a visit to the largest mosque in Central Asia, the Hazret Sultan Mosque. The 11ha mosque was opened in 2012, and its name, Hazret Sultan, means Holy Sultan. The mosque was anmed after Khoja Ahmed Yassawi, a Sufi sheikh who was a poet, philosopher, and Muslim saint known throughout Central Asia. Spend some time admiring the building's architecture, domes, minarets and and intricate details – it will leave you fascinated and blown away.
Clad in blue glass and white marble, this is the youngest and largest museum in Central Asia which opened in 2014. It offers insights into the history and culture of Kazakhstan from ancient to modern times via various themed halls. One highlight is the golden hall, which showcases Kazakh jewellery and Bronze Age artefacts such as the famous 'Golden Man', a national symbol. You can also learn about the nomadic culture of Kazakhstan, which gained independence in 1991.
After a morning of sightseeing, stop for lunch at Rumi, which serves tasty plov, a traditional Central Asian rice dish. The halal restaurant does not serve any alcohol, but it has a great selection of Tashkent tea. Take a break here while you gear up for your next stop.
Take a tour of the fascinating globe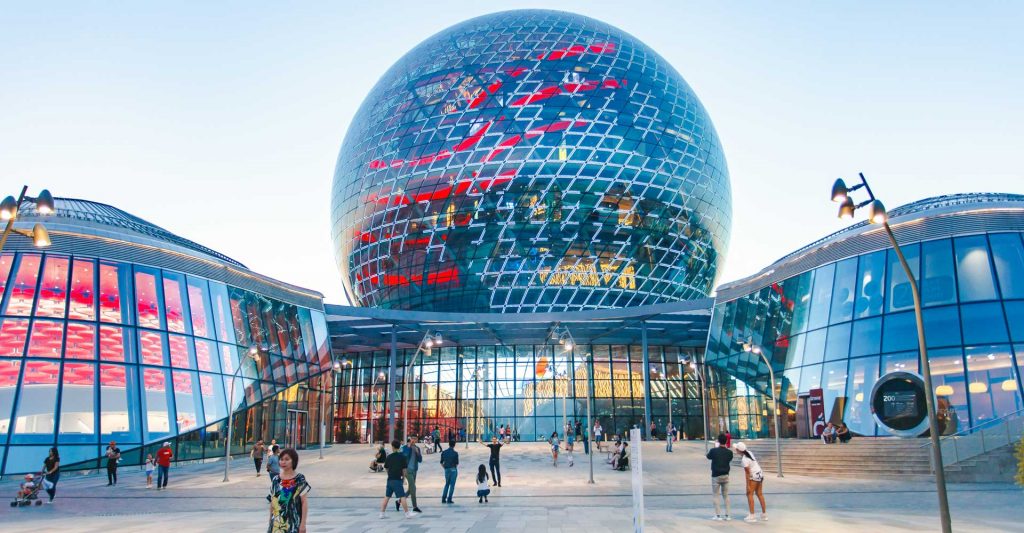 The stunning Nur Alem globe was built specially for Expo 2017 Astana, an international exposition which took place from June to September in 2017. The event may be over, but the pavilions have remained as a museum and education centre, showcasing what the future of energy could look like. Tourists and locals alike visit Nur Alem to appreciate up close its unique architecture and exhibits. Outside the globe, you will find a park with a huge playground that will definitely keep young children entertained, as well as Mega Silkway, the biggest shopping mall in the city, just across the street.
A regular ticket to Nur Alem costs about $5.
Dance the night away with the Astana Ballet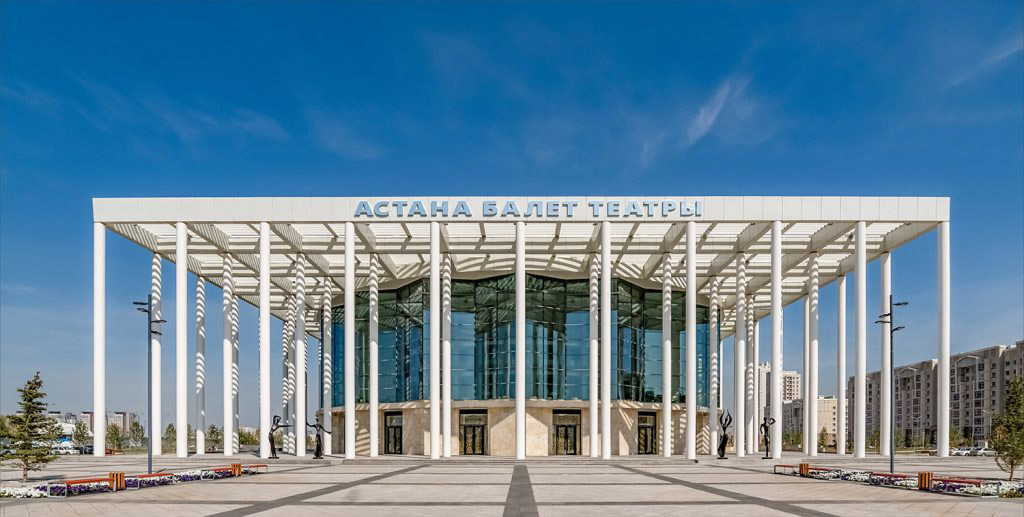 End your night with a world class performance by the Astana Ballet. Founded in 2012, the Astana Ballet troupe may be young, but it has put up several original choreographic performances, as well as national classics and world masterpieces. Tickets start from just $4 – a steal for the world class performance that you will be watching!